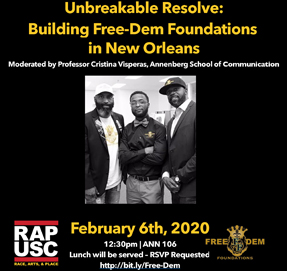 Unbreakable Resolve: Building Free-Dem Foundations in New Orleans
February 6th, 2020
Dive deeper to learn more about the Unbreakable Resolve of Jerome Morgan, Robert Jones and Daniel Rideau, who will make a powerful presentation about mass incarceration and their efforts to rescue young people from its grasp.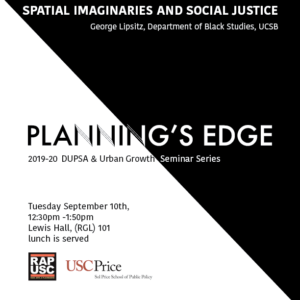 Spatial Imaginaries and Social Justice with George Lipsitz
September 10, 2019
Join George Lipsitz Department of Black Studies, UCSB for a talk on the role played by expressive culture in place based struggles for social justice in New Orleans, Houston, and East Los Angeles.
Watch Video Highlights here
Watch Video of Full Seminar here
October 3, 2018
MacArthur grant recipient, USC RAP faculty members Professor Viet Thanh Nguyen and Professor Josh Kun engage in informal conversation about the modes of practice they have developed around art and politics, migrants and refugees, and the borders of scholarship and creativity.
Co-sponsor: USC University Faculty Club
April 27-28, 2017
Our conference, Race, Arts, and Inclusive Placemaking after the 1992 Civil Unrest, takes stock at the 25th anniversary of the 1992 LA Civil Unrest, a seminal moment which sparked a national discussion about the conflicts in our cities.